Senergy provides extensive services to address the expanding requirements of network data management.
Identity-driven policies automate tasks that are traditionally done manually, resulting in cost savings and
assurance that tasks are being performed properly. Target-driven policies offer data migration, cleanup, and
protection from data corruption and downtime through nearline storage backup of high-value targets,
enabling quick recovery of files and their associated permissions.
Target-Driven Policies
Apply policy directly to the data in High-Value Target (HVT) folders on the network.
The Target-Driven genre allows for multiple families of policies. These include:
Data Location Policies

Content Control Policies

Data Protection Policies

Security Notification Policies

Lockdown Policies

Fencing Policies
Each of these policy families can and will include multiple policy types. For example, there are different types of Data Location policies that allow customers to move or copy data in HVT folders. Content Control policies allow for actions such as grooming of data in HVT folders. Notification policies notify you when access permissions have been updated. Fencing policies restrict access to certain users and groups, and Lockdown policies prevent new users from being granted access.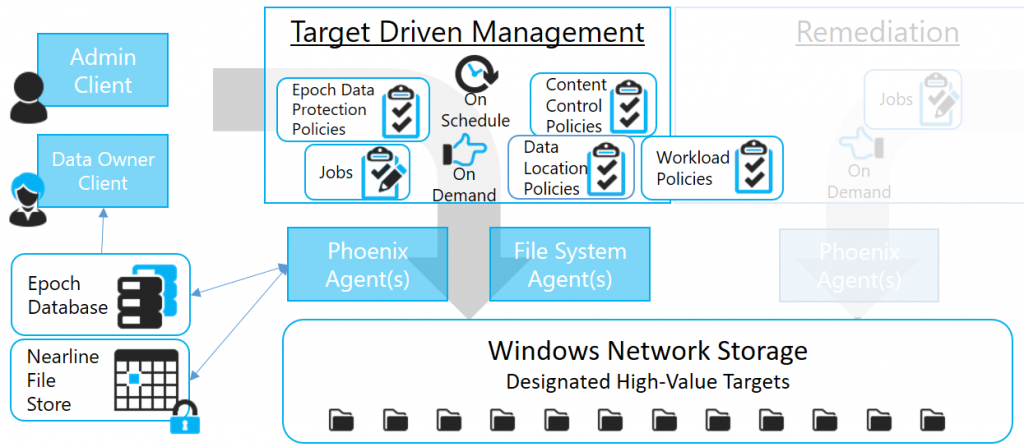 Workload
With Workload, if you can produce a list of files or folders that you would like to move, copy, delete, set owner, etc, you can have Senergy do that work for you. These workloads could come as output from our own products like Galileo,  utilities developed by another software vendor, or from your own programs. It's really that simple and that powerful. 
Senergy: A critical component of a File Analysis strategy
The Benefits of using Senergy
Need more information?
Contact ST-FOUR on the form below or check the Senergy Website for more details